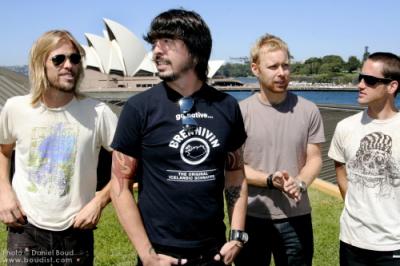 Así, es un gran grupo liderado por el ex-bateria de Nirvana Dave Grohl (voz y guitarra), Nate Mendel (bajista) que lleva con Dave desde el 94, Chris Shiflett (guitarra) que lleva en el grupo desde 99 y Taylor Hawkins (bateria) que lleva en el grupo desde el 97 y que conforman este buen grupo.
Bueno, la historia de su paso al éxito es bastante buena ya que, tras sacar su primer disco "Foo Fighters" que no obtuvo casi reconocimiento excepto en la canción "Big Me" premiada por canción con mejor vídeo original, el grupo despego con su disco "The Colour and the Shape" (ahí se incorporó al grupo Taylor Hawkins) que con sus canciones "Monkey Wrench", "Hey, Johny Park", "Everlong" y "My hero" principalmente les puso en el punto de mira de todo el mundo. A partir de ahí, todos sus discos consecutivos no han hecho mas que consolidar su fama.
Así, todos sus discos siguientes les han dado canciones y éxito que hoy día empezando por "There is nothing left to lose" ("Learn to fly", "Breakout" y "Next year"), siguiendo por "One by one" ("All my life" y "Times like these"), luego "In your honor" ("Best of you", "DOA" y "No way back") y por último "Echoes, silence, patience & grace" ("The pretender" y "Long road to ruin") teniendo en 2006 el disco recopilatorio "Skin and bones" y una edición especial de "The colour and the shape" en 2007.
Así, podeis haceros una idea de el desarrollo de su carrera que disco a disco les ha ido consolidando hasta alcanzar una meta que aún son capaces de superar para seguir ascendiendo hasta la cima.